2012.08.18 Saturday
Galerie 1900-2000 at Mehdi Chouakri:additional information
前回のベルリンでの展示会の続報です。

アーティストであるフランス人の友人、
フランソワ・ルタイユール(
Francois Letaillieur
)
から
詳しい情報が届いたので、ご紹介します。


さらに詳細について興味のある方は、下記の英文を参照してください。
様々なアーティストの名前が登場し、欧州の前衛的アートシーンの
流れの一断面が垣間見えるようです。


さて、前回ご案内したように、"Project Berlin-Paris"は、
ベルリンとパリのギャラリーの相互交流プロジェクトで、
2009年にベルリンの仏大使館の呼びかけにより始まりました。

ベルリンのギャラリーはフランスのパートナーに展示スペースを提供し、
代わりに自分たちのプログラムをパリで展示します。


今年は、パリのマルセルとダビッド・フライス親子の「ギャラリー1900-2000」も
このイベントに参加しました。

ベルリンのギャラリー、「メフディ・チョウアクリ」がスペースを提供。
フランス人の芸術家で、シュールレアリズム運動にも参加していた
ジャン・ジャック・レーベルの選んだアーティスト作品が展示スペースを飾りました。


フランソワ・ルタイユールもそのアーティストの一人で、
友人であるジャン・ジャック・レーベルは、
展示された彼の作品「バブル」を高く評価していました。


フランソワ・ルタイユールは、レタリストとして活動し、
ギャラリー1900-2000では1988年に「レタリストの半世紀」という
最大のレタリスト回顧展を企画。

その他、1997年、2004年と、レタリスト関連の展覧会の企画や
様々なアーティストカタログ執筆を行ってきました。

自ら作品も作成。1981年には、今回展示のものよりも大きな作品「バブル」が
パリの近代美術館に収蔵されています。


2008年には、ブカレストの国立近代美術館で
'Animations / Fictions'展が開催され、
多くの国際的に著名なアーティストと並んで、
フランソワ・ルタイユールの「バブル」も展示されました。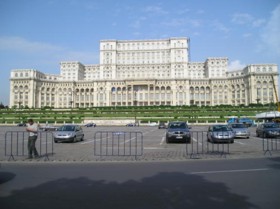 <国会宮殿>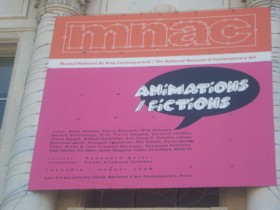 <'Animations/Fictions '展 ポスター>


それでは、フランソワ・ルタイユールのレポートをご覧ください。



The project Berlin-Paris is a gallery exchange at the initiative of the French Embassy in Germany since 2009. The Berlin galleries make available to the French partners their exhibition spaces and show a week later their own program in Paris. Gallery 1900 2000 of Marcel and David Fleiss in Paris participate in this exchange.
Francois Letaillieur organized here in 1988 "The Half-Century Lettrist" the largest retrospective Lettrist and, in 1997 and 2004, exhibitions of Lettrists artists: Brau, Pomerand, Spacagna, every time with catalogs on each artist.
The gallery patroned "Aabam" the project of Francois with Claude Parent exhibited at the Grand Palais in 1989 during the bicentennial of the revolution within Europe of creators Utopias 89" and in 2006 "Spirit of Teams": Fluxus, Lettrisme as part of an exhibition in Saint Germain des Pres.
Jean Jacques Lebel is a friend who loves the bubbles of Francois Letaillieur. He participated in the Surrealist movement and then introduced in Europe the Happening. His exhibition in 2009, "Soulevements" in the foundation Antoine de Galbert, the Maison Rouge in Paris was a great success. He presented his collection. Centre Pompidou Metz is now showing a noticed installation he made for the exhibition "1917".
End up the bubble
The State bought in 1981 at a show "Comparaisons" in Paris a large bubble of Francois Letaillieur, "Bulle decoincee de sa bande". In 1988, to celebrate the entry of Romania in Europe, an exhibition was organized "Animations Fictions"at the National Museum of Contemporary Art in Bucharest ( a part of Ceausescu palace) and the curator Ruxandra Balaci, selected works in the stock State. Thus the bubble of Francois Letaillieur found herself next to works by international artists: Erro, Peter Joseph, Raymond Pettibon, Wang Du, Petra Mrzyk Moriceau and Francis, Verschaere, Bertrand Lavier, Koo Jeong-A , Wim Delvoye, Jim Shaw, Suzanne Lafont, Bernard Joisten, Pierre Huyghe, Mac Adams, David Mach, William Kentridge, Gerard Deschamps, Sandy Skoglund, Pierre Bismuth, Alain Sechas, Boris Achour.
In fact many events are linked to Europe.