2007.12.01 Saturday
Musee du quai Branly
The one year old museum about the arts of Africa, Oceania, Asia, and
the Americas.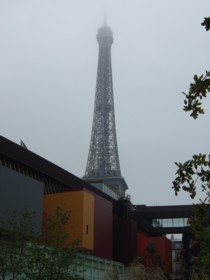 During the 20th century, non-Western arts started to be seen in
western museum collections. This development was largely thanks to
cubist and fauvist artists, influenced by french writers and critics
from Apollinaire to Malraux, and in the wake of the work of such great
anthropologists as Claude Lévi-Strauss.
This development has even been increased by the great passion that the
French president Jacques Chirac has always shown about it. The Musée
du quai Branly can be recognized as the main cultural project of the
12 years of his presidency.
The collection comprises some 300,000 artefacts, most of them coming
from the Musée de l'Homme (250,000 items from the ethnology
laboratory) and the Musée national des Arts d'Afrique et d'Océanie
(25,000 items). In parallel, an ambitious acquisition policy was
implemented as from 1997.
The collection is organised by geographical area: Africa, America,
Asia and Oceania. It also accommodates geographically transversal
collections (the musical instruments collection, the History
collection, and the textiles collection), and a remarkable collection
of photographs. The permanent collections area exhibits 3,500
artefacts from the four continents.
The museum is also attractive for its building built on an exceptional
location on the banks of the River Seine, at the foot of the Eiffel
Tower. Designed by Jean Nouvel, a well known French architect, the
Musée du quai Branly building resembles a long footbridge, partly
covered with wood, and stretching into the trees. Hidden from view by
thick vegetation, and protected from the noise of the quays by a glass
palisade.
In the building, which is perched on piles, all is curved excepted the
suspended 'boxes', clearly visible from the outside and displaying
works of similar origin, enable the visitor to gain further knowledge
of a people or a culture. Two others unusual areas are the major
reserve collections open to researchers and a theatre which, in
summer, opens onto the 'open-air amphitheatre in the garden.
You can find further information on www.quaibranly.fr